THIS PLASTIC-FREE LAUNDRY DETERGENT SHEET SAVES YOU TIME, SAVES YOU MONEY, AND SAVES THE PLANET.
Competitor clean guarantee

Just tried Sheet laundry detergent for the first time and I'm blown away!! Thank you for these. It's seriously one of those "little things" (that's actually a BIG thing) that makes me happy!!

"This is a product you feel great about using. You've got a lifelong customer!"

"It makes my heart happy knowing that I have plugged up one of the plastic holes that was polluting my grand babies futures."
Sheets Laundry Club gives you a clean load of laundry in a convenient, mess free way.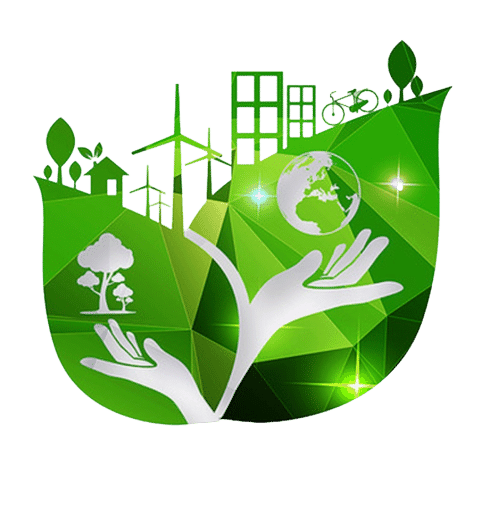 No Plastics. No Harsh Chemicals. 100% Recyclable. Listen close and you can hear planet earth breathing a sigh of relief.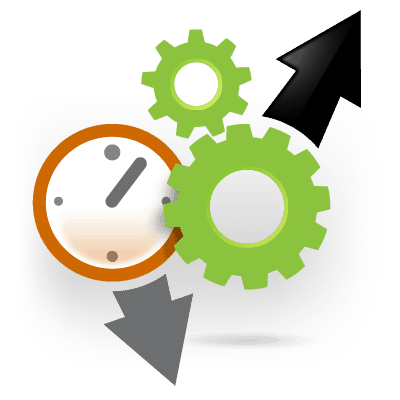 Each Sheet of detergent gives you exactly what you need for a clean, fresh, soft load of laundry. It dissolves in the wash in seconds.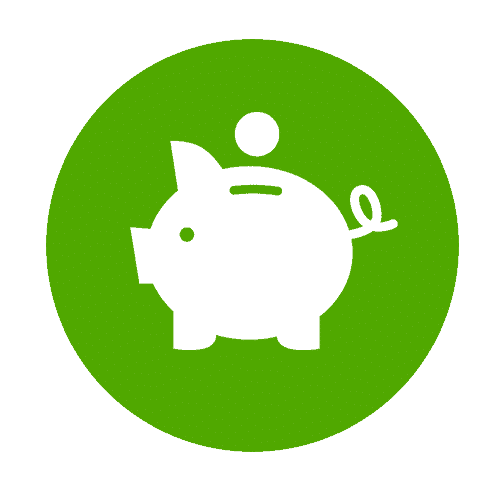 Our commitment is to provide a better, greener, cleaner, more efficient, more effective way of doing laundry at a price no more expensive than the store brands.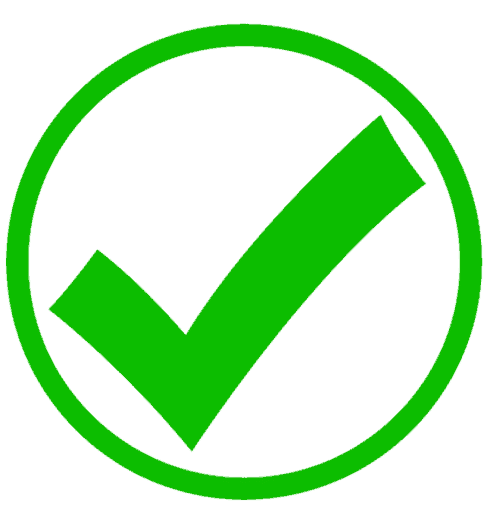 After a lot of development hoops, hurdles, and testing, we were able to harness nature's cleaning power and deliver a natural detergent that works. No waste. Less space. Common sense.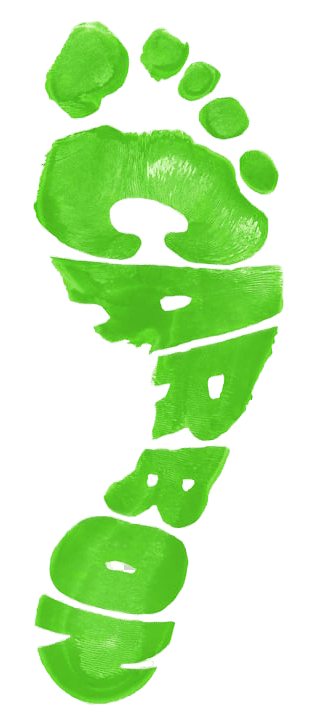 For every 1 bottle of comparable liquid, pods, or powder detergent, we can ship 6 boxes of sheets. This cuts cost on shipping, saves cargo space, & greatly reduces carbon emissions.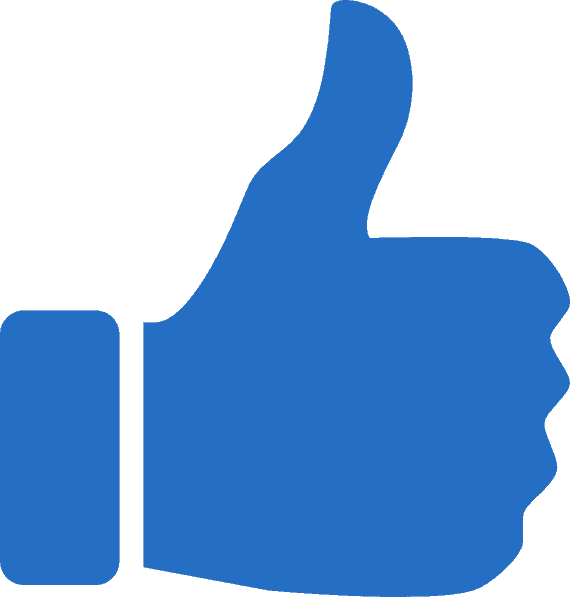 Laundry sucks. We get it. Our mission was to save you time and money while saving the planet. Mission accomplished.
To Give You A Product That Works Better. To Save You Time & Money.
To Save The Planet. Nothing Else Mattered.
In a box that fits 4 pod containers, we can fit 24 boxes of sheets. Less bulk, less weight, and more room on your shelves.
Not sure if you'll like our products? You don't have to be! We guarantee you will or your money back.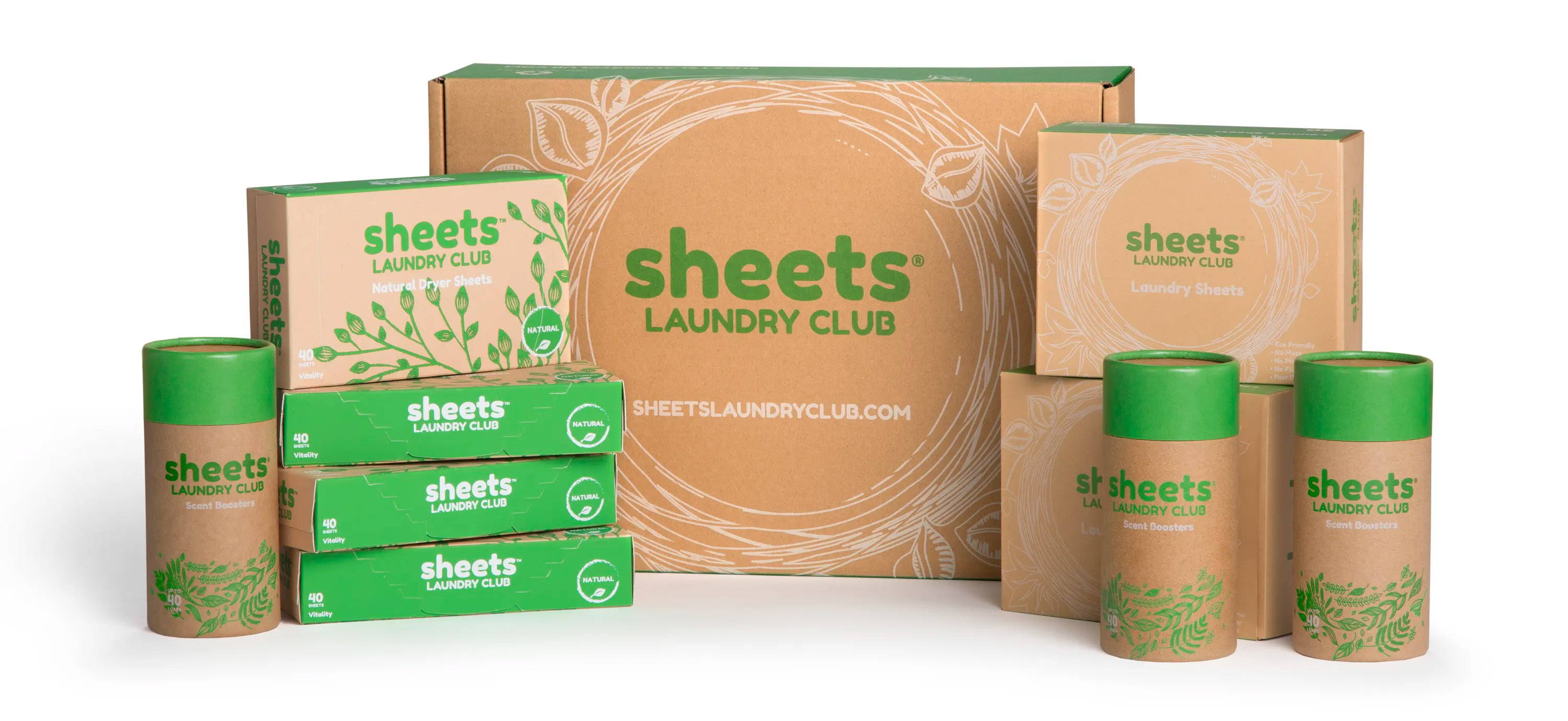 Sheets is a company that gives back with efforts to clean up our oceans and landfills. You can feel great about your purchase.
Shipping is free. It's fast. Oh, & did we mention that our products are TSA compliant? Good Sheet!
Cleaning agents from nature. Safe for sensitive skin. Safe in top & HE front loaders.
Vegan Friendly! No animal byproducts and NEVER tested on animals.
When you have a great product, you've got nothing to hide:
Water, Naturally derived surfactants from coconut oil*, Polyvinyl Alcohol**, natural essential oil fragrance
* The muscle of our sheet comes from nature. Through a proprietary process, we are able to extract and process coconut in a way that provides tremendous cleaning power while being safe and natural.
**What is polyvinyl alcohol (PVA)?
PVA is a biodegradable polymer used as our propriertary binding agent, creating a detergent, neither liquid nor solid, that evenly dissolves in the wash. It'is created from plants and is all natural. It is nontoxic and safe for humans, animals, and marine life. PVA is commonly used as contact lens lubricant. That's how safe it is!
So easy your second grader could do it, which we do highly recommend. ;)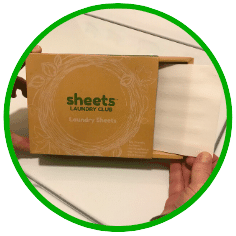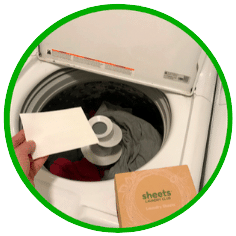 Note: Sheet goes in last for top loaders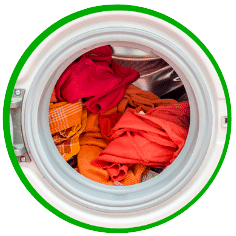 YOU ARE MAKING A DIFFERENCE.
Without YOU, we wouldn't be here. With each purchase, you are helping us make a massive difference. Maybe we can't individually change the world, but together, we can and we are.

How are YOU making a difference?
Laundry Waste Is A Huge Problem
Over 700,000,000 plastic jugs end up in landfills and oceans each year. Plastic islands make up over 1 million square miles in our oceans.
At Sheets Laundry Club, we have already eliminated 1.27 million plastic containers from even being produced. That is a HUGE win!
Only 8% of Plastic Actually Gets Recycled
It is estimated that only 8.4% of plastic actually gets recycled. Even when we recycle, hardly any of it is reused. Countries have started to deny America's plastic due to us producing too much.
It's Not Just the Sea Turtles at Risk
By 2050 it is estimated that there will be more plastic than fish. We need to start protecting our wildlife. It is time to make a change. Small changes lead to big impact.
OUR "GIVE BACK" INITIATIVES
As part of our core values, we believe that a difference made in the lives of others is far greater than any dollar earned and kept. See below for just a few highlights of the many ways in which we are making a difference beyond just our products helping to give relief to our global plastic crisis.
Sheets is vegan friendly! We use no animal products and are never tested on any animals. We believe nature should be left how we originally found it, and that's exactly what we are dedicated to doing. We are also excited about some pending partnerships that will help us preserve animal life and restore our oceans and reefs to their natural beauty.
We are excited to announce a new partnership for 2021 with One Tree Planted. For every order, we plant 1 tree*. We have already planted over 500 trees and as a result, Sheets Laundry Club now has a NEGATIVE carbon footprint impact!

*On orders over $20
In 2021, Sheets Laundry Club is donating 100k loads of laundry to homeless shelters, inner city initiatives, and local communities that are financially burdened. We believe having access to clean clothes is not only a right, but is a first impression that can help open the door for personal opportunity and greater equality.
Wanna save some big money? We took some of our best selling products with an average rating of 4.8 stars (out of 5) and put together 3 of our hottest bundles. Pick an option that fits your lifestyle and we are certain you'll be thrilled with the quality of our product line.

Saving money never smelled so good!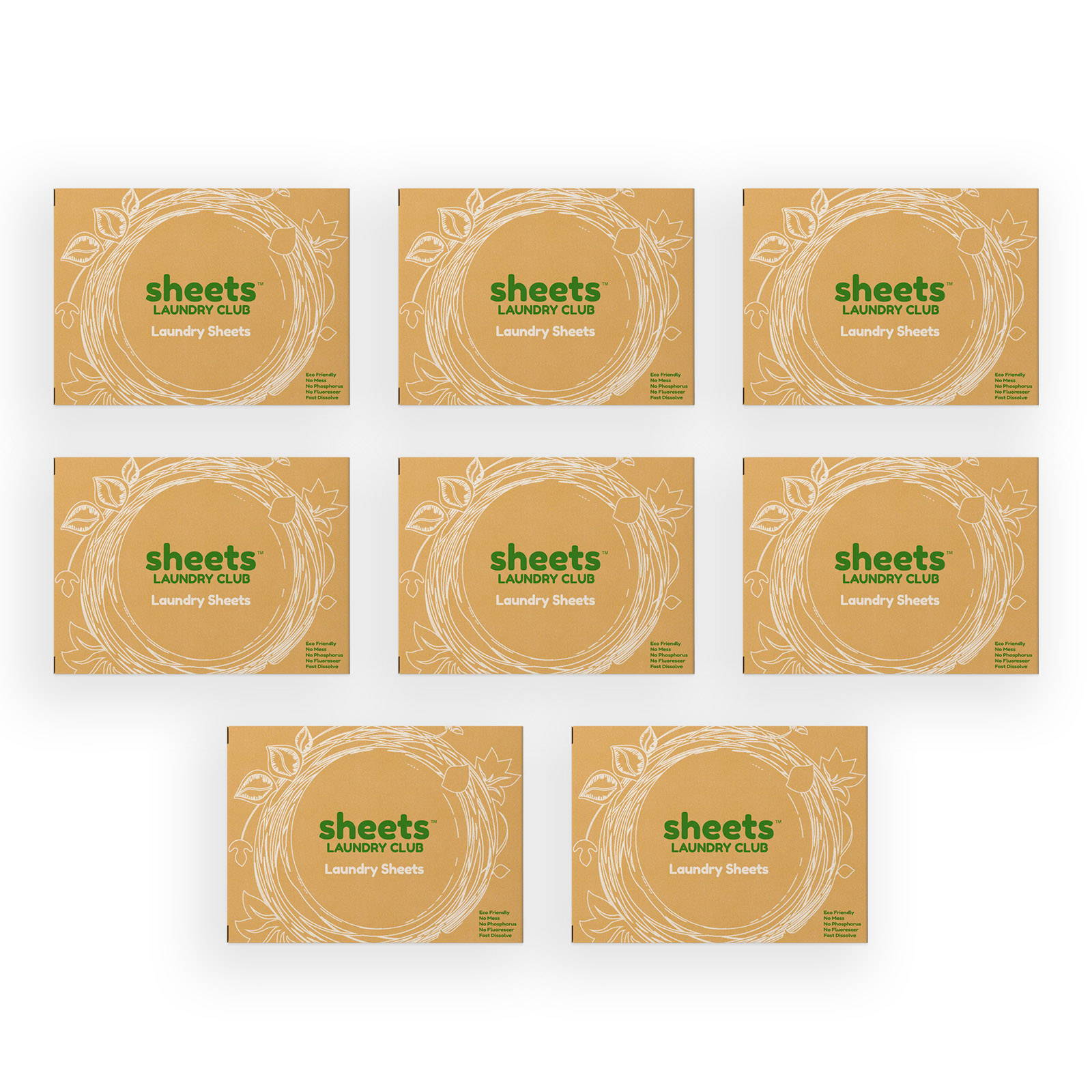 1-Year Supply Laundry Detergent Sheets (400 Loads)
Subscribe & Save Price:
$97.99
WHAT'S INCLUDED:


x8 Laundry Detergent Sheets
For those wondering... "What the sheet?"
Does your sheet actually work?
We get it. This is new. And when something is new, it creates a sense of uncertainty. But let us reassure you – we spent a lot of time and money testing and doing side by side comparisons with our competition and big brand detergents in an effort to improve our formula and its performance. Our all natural detergent sheets work better than most anything out there, and every bit as good as everything else, even the big brands you're probably used to.
What are the ingredients?
Water (extracted during manufacturing), naturally derived surfactants from coconut oil, polyvinyl alcohol, natural essential oil fragrance (Osmanthus)
What is polyvinyl alcohol (PVA)?
PVA is a biodegradable polymer used as our propriertary binding agent, creating a detergent, neither liquid nor solid, that evenly dissolves in the wash. It'is created from plants and is all natural. It is nontoxic and safe for humans, animals, and marine life. PVA is commonly used as contact lens lubricant. That's how safe it is!
All of our packaging is sustainably sourced, natural, and recyclable. We are committed to never using plastics.
Absolutely not! We are vegan friendly. We use no animal byproducts and never test any of our ingredients or products on animals. Our founders are animal lovers!
What if I don't do 50 loads a month?
No problem! You have the control to pause or cancel subscriptions on your own online. You can also adjust your delivery frequency to whatever meets your needs. Every 2 months? 4 months? No problem!
How can I add/delete products or manage/cancel my subscription?
You're in complete control. You can email us or chat with us online, but you also have the ability to make changes to your subscription on your own. When you complete your purchase, your online account will be set up. Inside your account, you have the control. You can add or delete products. You can also edit your shipment frequency, delay or speed up shipments, and cancel completely… all without having to speak to anyone.
What does "natural" mean?
It means a lot… but to summarize, it means we use no plastics, no harsh chemicals, and no toxins. Our packaging is all natural, biodegradable, and contains no plastic. We harness the same cleaning power as the "big brands" while remaining non toxic. Even our fragrance is all natural, coming from Osmanthus essential oil. We qualify for Eco Certification and are in process of obtaining official Eco Certification Status. We are on track to have 1 million customers by the end of 2020. When we hit that goal, we will be taking 1.5 MILLION plastic bottles out production every single month. That's 18 million less plastic containers each year, and that's massive. We appreciate you being a part of this movement.
Why don't my clothes come out with a scent?
Well… first, let's make it clear that a "clean" smell doesn't mean something is actually clean. You can saturate the shirt you take off tonight with perfume or cologne, and it will probably smell good, but that doesn't mean it's clean.
Even though our sheets are lightly fragranced, your clothes will come out of a wash cycle with little or no fragrance. Here's why – as part of our patent and proprietary technology, our sheet is completely water soluble, down to the molecule, and as a result, your clothing completely absorbs our detergent, but it also completely rinses out during the rinse cycle, along with all the dirt and dead skin cells. When your clothes come out with a fragrance, that means the chemicals and toxins in popular detergents, as well as the dirt and grime didn't completely rinse out of your clothes. As a result, you wind up wearing those chemicals and toxins around all day. With our detergent sheets, you get clean clothes with nothing left behind.
If you want your clothes to come out with a fragrance, try our scent boosters. They are specially formulated (and patented!) to leave a lasting fragrance in your clean clothes for up to 12 weeks.
What if I don't like your sheet?
Then you get a refund. It's as simple as that. Your happiness is far more important to us than keeping your money for a product you don't like. However, we know our product works extremely well, and we're pretty sure you'll love it. We guarantee a soft, fresh, clean load of laundry every time. We do require refund requests to return unused product to prevent refund abuse. We appreciate your understanding.
How long does it take to receive my order?
Most orders are received within 4-6 days from the date of ordering. We ship orders Mon – Sat, and as soon as your order leaves our warehouse, you will be emailed a tracking number.
Does your sheet work in both top loading and HE front loaders?
YES! Our sheets are specially formulated to have great performance in all laundry machines. For top loaders, put your clothes in first, then add the detergent sheet on top. For front loaders, put that sheet in first, then add your clothes last.
Do you offer any other eco-friendly products?
Do you have an "unscented" option?
We do! Our 'Free & Clear' formula is perfect for those that are sensitive to fragrance.
What will my clothes smell like?
Roses… Duh! ;)
But seriously… our sheets are fragranced with essential oil derived from Osmanthus blossoms. We have achieved an amazingly convincing fresh linen scent from nature. It doesn't smell fake or overpowering. It legitimately smells like good, clean, fresh linen, and it's all natural. You gotta smell it to believe it.
How do I manage my subscription?
By far, the best deal on our products is with a subscription. Our subscriptions have no commitments, contracts, or hidden fine print. When you start a subscription, you'll create a password at checkout. Your email address and password are used to access your account where you can login at www.SheetsLaundryClub.com. When you log in, you can add or delete products, change your shipment date or delivery frequency, and even cancel your account completely. We will be happy to support you and answer any questions, but just know that you have the freedom to control your subscription online without ever having to talk to anyone.
Are subscriuption required?
Nope! Never! All of our products are available as a one time purchase.

"As a mom of 5, convenience is important. Sheets Laundry Club has made my daily life just a bit easier. The sheets are pre-measured, easy, and they work every bit as well as the detergent I was formerly using. They're noticeably better for our clothes and skin. I was skeptical. Sheets made me a believer."
Emily F., NC

"I. Love. SHEETS!! My family's clothes come out soft and clean every time. This is a product I can feel great about using. You've got a lifelong customer.
Emily F., NC

"I love everything about this company and their products. The products work great. They smell awesome. Pricing is competitive, and they're saving the planet! If we all got behind companies like this, imagine how much better the world would be."
Cathy V., NV

Sheets Laundry Club, it just makes sense.
Give us a try and see why hundreds of people just like you are making the switch every day.